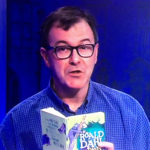 Ian is the award-winning author of the popular and critically acclaimed young adult series: the Zeke Hailey Saga. He also writes non-fiction, short stories, as well as reviews and articles. Other credits include a radio play, graphic fiction and picture book apps. He runs courses in creative writing. Ian lives with his family in Nottingham, the heart of Robin Hood country.
Download an online chat with Ian Douglas here. And read the Left Lion interview here.
Learn more about Ian's life as a writer here.
Follow @Iandougie on Twitter.